March 5, 2020
Another strike day meant finding something to do with the kids. It wasn't very cold so it would be nice to go outdoors however it was pretty soggy outside. In polling the kids, they had suggested the Playdium by Square One in Mississauga – wanting to get into the batting cages. Well a quick google search to find their hours revealed that it is closed for renovation. But the good news – there was a new location in Brampton.
The new location didn't open until 3pm so after lunch we headed out for a pit-stop to check out Chinguacousy park as it was in the area. I had always heard that it was a great park so wanted to see for myself. Well…. it's huge and a lot of things to do. Another post for another day for when we can explore it more.
We arrived around 3:30pm to a handful of cars in the parking lot. Upon entering, they have the lobby with a few cash stations and some self serve kiosks to buy your game credits. It was a ghost town so we started to check out the place.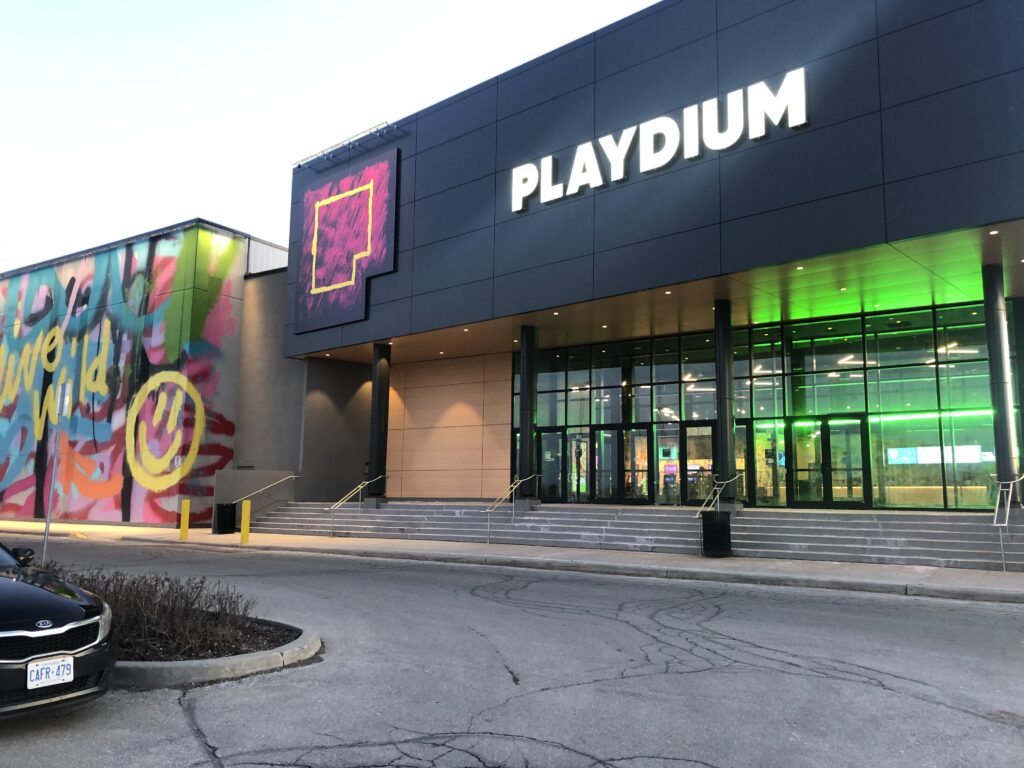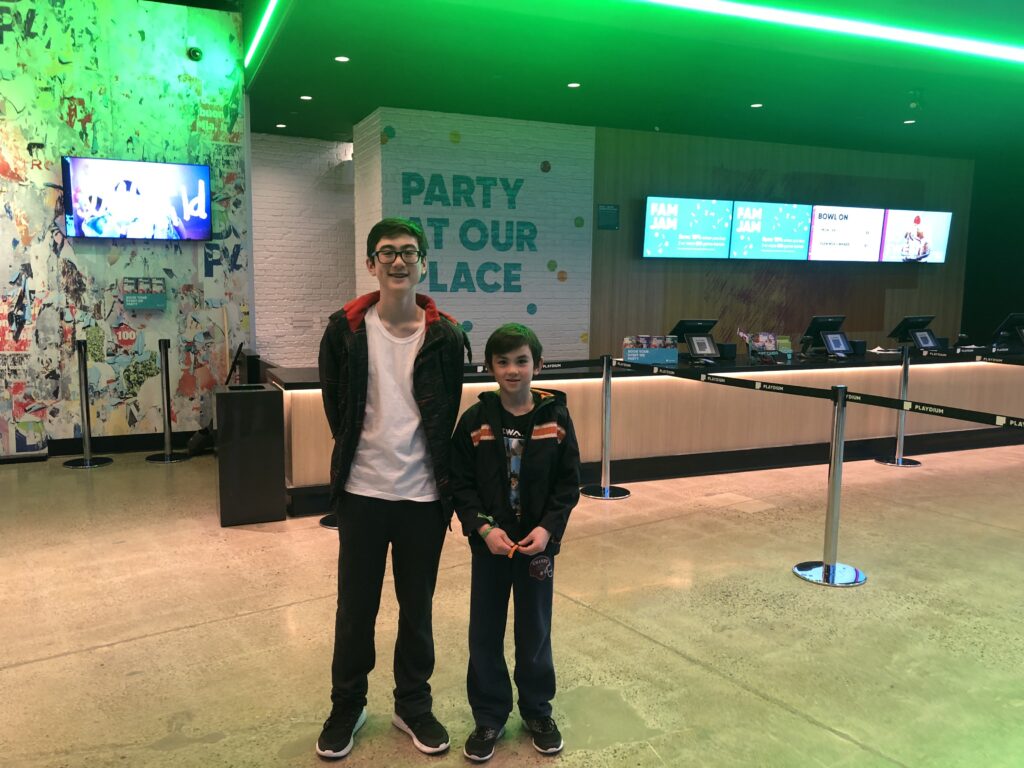 Exploring the inside:
Just beyond the lobby, there is a quick serve eatery with your typical hits – pizza, burgers, nachos and other snacks. Near by, they also have a sit down restaurant that serves the same items and more. Further in you hit the gaming floor with their potpourri of games – racing, shooting, sports, ticket redemption games…..they have it all. At the back of the building a nice surprise! They have an indoor rope course (very cool), VR games and a few bowling lanes.
So we went to the redemption center to check out the pricing options for the games. Rate start at $10 and up for game credits. In looking at all options, we settled on 2hrs of gaming for $25. The only caveat with this is that you don't earn tickets. The kids have played enough ticket games that they agreed they didn't need another tchotchke. In addition, Tyler was really interested in the rope course -30 mins for $15 so we added that.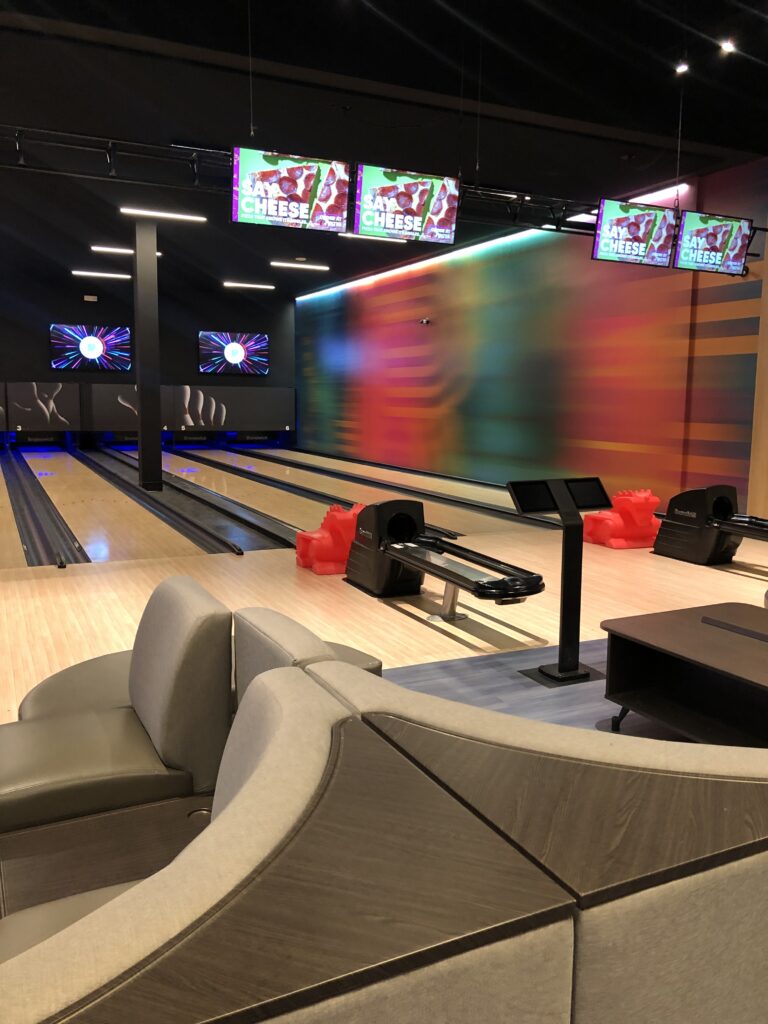 Rope Course:
We started off on the rope course since you have a 30 minute time limit. Tyler was excited to get on the course as he is a dare devil. It was cool that they have built this above a large section of video games. I counted 12 elements to conquer in addition to a zip-line. It's not as large as the outdoor courses however its a nice size for the smaller kids and a bit of variety for the kids. They harness you up and send you up.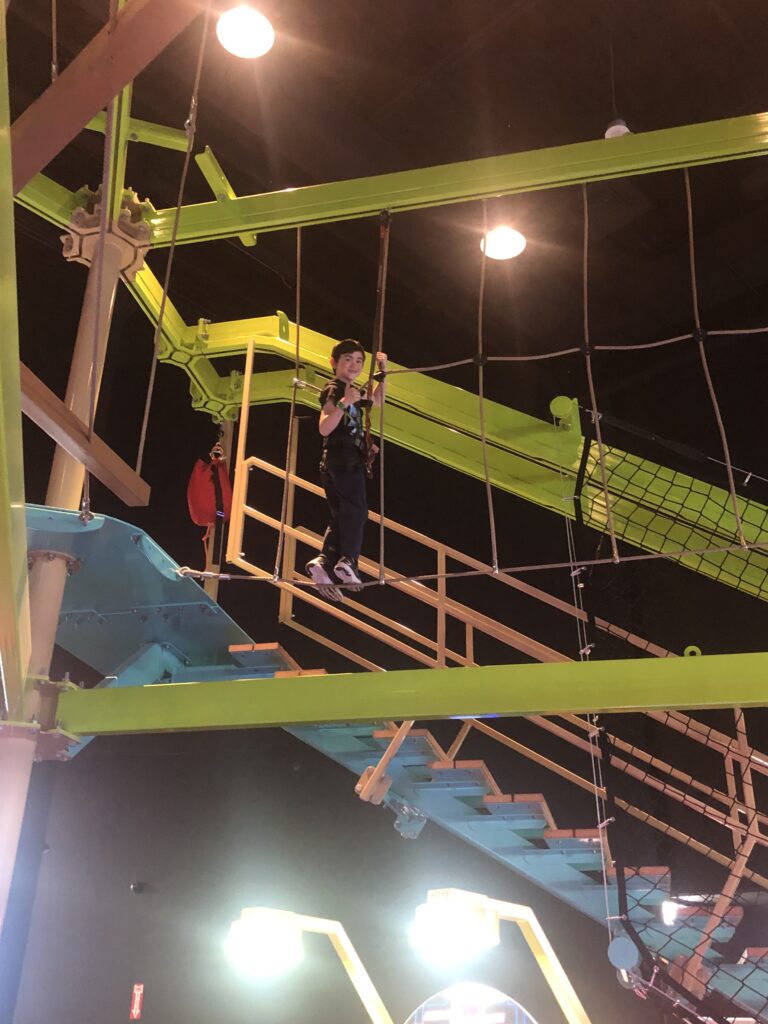 Video games:
So after Tyler's 30 mins were done on the rope course, it was time to hit the main event. 2 hours of All-You-Can-Play video games. They have a huge selection to choose from; the classics like skeeball and basketball shooting, wide variety of racing and first-person shooters as well as the games of chance to win tickets. And many, many others – something for everyone. Austin and Tyler wasted no time hopping from game to game to try them all. A couple of notable games that they enjoyed – Maria Kart, Halo – Fireteam and Extreme Shot basketball. We played until just after 6pm – the time flew by with trying out as many games as they wanted. It was a fun afternoon – I got to reminisce about the days when the original Playdium first opened. Going there and enjoying it late into the night.
Key Info:
Playdium – Brampton

Located at 20 Biscayne Crescent, Brampton (Hwy 410 and Steeles)
Free parking
Quick serve and sit down restaurant for food
Many entertaining options – over 100 games, bowling, VR arena and rope course
Game and food specials available – check out their website.
Party rooms available
Playdium website: https://www.playdium.com/